2018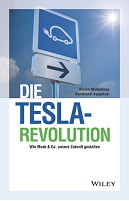 Die Tesla-Revolution - Wie Musk & Co unsere Zukunft gestalten
Rembrandt Koppelaar and Willem Middelkoop, Wiley, 250 pages, ISBN: 978-3-527-50945-4
German edition: Wiley-VCH | Amazon.de

"Die Tesla-Revolution" zeigt uns die Zukunft der Energieversorgung. Lesen Sie, wie der rasante technologische Fortschritt bei Batterien und der Solartechnologie bereits heute große Veränderungen vorantreibt und was dies für die Wirtschaft, die Politik und unseren Alltag bedeutet.
2017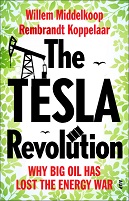 The Tesla Revolution: Why Big Oil is Losing The Energy War
Rembrandt Koppelaar and Willem Middelkoop, Amsterdam University Press, 300 pages, ISBN: 9789462982062
English edition: AUP | Chicago University Press | Amazon.com | Amazon.co.uk
Chinese edition: Amazon.com
"Though oil prices have been on a downward trajectory in recent months, that doesn't obscure the fact that fossil fuels are finite, and we will eventually have to grapple with the end of their dominance. At the same time, however, skepticism about the alternatives remains: we've never quite achieved the promised "too cheap to meter" power of the future, be it nuclear, solar, or wind. And hydrogen and bio-based fuels are thus far a disappointment. So what does the future of energy look like?"
The Tesla Revolution has the answers. In clear, unsensational style, Willem Middelkoop and Rembrandt Koppelaar offer a layman's tour of the energy landscape, now and to come. They show how rapid technological advances in batteries and solar technologies are already driving large-scale transformations in power supply, while economic and geopolitical changes, combined with a growing political awareness that there are alternatives to fossil fuels will combine in the coming years to bring an energy revolution ever closer. Within our lifetimes, the authors argue, we will see changes that will reshape economics, the balance of political power, and even the most mundane aspects of our daily lives.
2008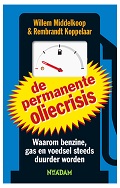 De Permanente Oliecrisis: Waarom benzine, gas en voedsel steeds duurder worden
Willem Middelkoop and Rembrandt Koppelaar, Nieuw Amsterdam, 300 pages, ISBN: 9789462982062